Top 10 Healthy Restaurants in Katy TX
You are what you eat, says the old saying. While most people have no problem with following this rule at home, they find it much more difficult to find restaurants that abide by this old saying! If you live in Katy (TX) or are just passing through it, here are Top 10 Healthy Restaurants in Katy TX where you can grab yourself a healthy and delicious meal:
Healthy Restaurant #10: The Pho Shack
We'll start our list with the youngest restaurant on our list, the Pho Shack. This restaurant opened very recently (3 weeks ago), and it already showed signs of success and excellent taste. You'll find it near Katy Costco, so feel free to grab a lunch or dinner after exhausting shopping! As the name of the restaurant suggests, the specialty is the pho. For those that don't know, the Pho is a Vietnamese soup, rich in spices, and made from beef stock (with noodles, of course!) You can take the food to-go, or sit in a restaurant and enjoy the cozy atmosphere. The meat selection is narrow, so if you are a meat lover, perhaps you should try other places. We commend the service, for they seem very open to suggestions and advice. This place overall feels warm, clean, cozy and tidy. It would be great if it had more seats, but what can you do! Oh and btw, the portions are quite substantial, and you really do get your money's worth.
---
Healthy Restaurant #9: ROKO Grill
While the ROKO Grill might sound like the most unhealthy restaurant you could visit (and also the most delicious), you can find extremely healthy food here. If you are a fan of American BBQ culture and would like to mix it with Venezuelan cuisine, then ROKO Grill is the right place. There's no alcohol here, reservations or food to go. It's a quiet place, with a trendy and upbeat atmosphere. This is a new restaurant it Katy, established in 2017. The meat is fresh and of extremely high quality. Moreover, it is cooked on the wood-burning fire, with no gas, charcoal or anything similar. You can add various sauces to your meal, but honestly, the meat tastes great even without any flavorings (and is healthier.) The restaurant is always clean and is clearly maintained with care. For instance, you can find hand sanitizers on all exits and entrances; isn't that great?! You might feel tempted to try the not-so-healthy food, but resist it: go for the beef and salad (that's our suggestion.)
---
Healthy Restaurant #8: Zoës Kitchen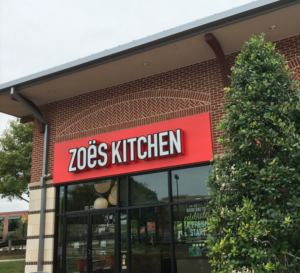 The Zoës Kitchen restaurant is known for having amiable service and delicious but cheap food. Here, you can choose between 25 meals, all of which would cost you less than $10, which is quite impressive for a healthy restaurant. Most people come here for the delicious chicken, as well as for the notable Zoës Chicken Salad. As of recently, the restaurant added the new Morrocan Chicken Piadiana (spicy, soft and delicious.) Also, you can download the Zoës' app to earn discounts or free meals! And, you can order food or make a reservation online, take it to-go or sit in a restaurant and embrace the Texas atmosphere! Aside from chicken, we suggest hummus, as well as Greek salad. Basically, you can try many Mediterranean dishes here at Zoës. But, we have to warn you that it is hard to find a parking spot in this restaurant, especially if you are visiting it on weekends.
---
Healthy Restaurant #7: U-Maki Sushi Burrito
If you are a fan of raw fish (especially Hawaiian Poke), then U-Maki Sushi Burrito is the place to visit. The proteins in this poke are healthy, and the sauce just takes like heaven. And btw, you can try the snow crab in U-Maki Sushi Burrito; a SNOW CRAB! This restaurant is also innovative in attracting customers. They will often organize games and allow participants to win free dishes and meals, which is quite cool. The popularity of this place exploded when sushirrito took over the Instagram. Since then, many people rushed to U-Maki Sushi Burrito to try their combination, and they have not been disappointed with their choice. As soon as you walk in this place, you'll notice that it is well illuminated, clean and modern. This isn't your classic restaurant, and works more like a fast food joint; you choose your meal, then toppings, and then drinks. The service you'll receive will be friendly, and the food extremely healthy, despite it being similar to fast food place.
---
Healthy Restaurant #6: Fadi's Mediterranean Grill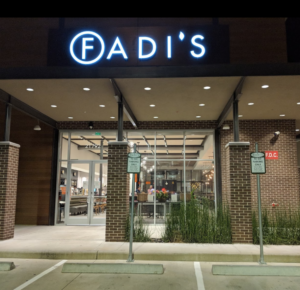 The Fadi's Mediterranean Grill is one of the best healthy restaurants in Katy for Mediterranean food. This is a pretty popular place, and you can easily find it packed even at 8 AM, so please, be mindful of that! The menu is massive, which is an excellent thing if you are picky about your choices. Many salads, entrees, drinks and desserts, all well-prepared and served fresh. You waltz in, grab a tray (together with pita), and proceed to the cafeteria to select basically anything you wish. The best thing about Fadi's is that you can split your portions into two sides; you can have two 1/2 sides so that you can sample more food. If you got a chance to eat here, we suggest that you try the avocado-garbanzo salad. Chicken curry is also delicious, together with many green salads (kale salad comes to mind.) The place is quite massive, with plenty of windows that allow natural light to illuminate it. You can also eat outside if Texas hot summer sun isn't a threat to your skin.
---
Healthy Restaurant #5: Dish Society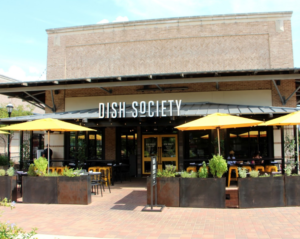 The Dish Society is arguably the most popular place to eat in Katy. The service is elegant and professional, the food always arrives warm, and the menu is quite substantial. This place has a decent number of seats, but most of it is outside, which is excellent (if the weather is lovely.) You get in, order your meal and drinks, and then proceed to find your seat. After your order is ready, the waitress will bring it to your seat. The best food you can have in the Dish Society is the Pork Belly Hash. Additionally, you could try biscuits and chicken, or for breakfast, House omelet. The food, sauces, and beverages are excellent. The biggest issue with Dish Society is the way it is set up. For instance, if you wish to order additional food or beverages, you can't just call a waiter to order it; you again have to wait in line, which can be very frustrating, especially if you are on the rush.
---
Healthy Restaurant #4: Newk's Eatery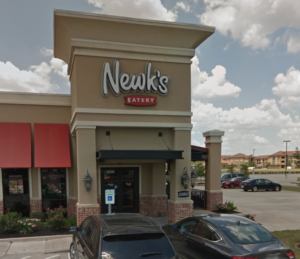 The Newk's Eatery probably serves the best Caeser Salad in Katy. The place is well decorated, warm and welcoming. Their prices are reasonable, the menu substantial, and food always fresh. We suggest you try their salads, together with chicken and turkey sandwich (go for the avocado turkey sandwich, it's quite delicious!) The Newk's Eatery is an ideal stop-and-go place because of its rapid service and simple meals. You can take your food to go or rest in a chair and enjoy your meal in a pleasant environment. If you love salads, Newk's Eatery is probably the best place to go. If you are crazy for salads, you should try the Nek's Eatery Ultimate Salad. The place also offers various healthy sandwiches and soup. All in all, you should visit this restaurant if you are looking for fast service, mixed with cheap and healthy food.
---
Healthy Restaurant #3: Zeus Cafe
The Zeus Cafe offers large servings, reasonable prices, massive seasoning, and friendly customer service. As the name of this restaurant suggest, this place is ideal for those that love Greek food. Here, we suggest you try the Greek potatoes, lamb shank, and lamb kabob. The place feels warm and will make you feel welcomed and at home even if you are merely passing by. While you can order fast food here, it is also a sit-down restaurant, with menu abundant in healthy Mediterranean cuisine. The place is always friendly and clean, with melodic music in the background. It can get crowded at times (due to the restaurant's popularity), but the service is nevertheless always fast. For salads, we suggest that you Tabouli salad; it tastes good and always appears fresh and as if it is homemade. If you are on the Keto diet, then try this place. They have an excellent selection of salads and fish (we suggest you try the Zeus fish.) And the seasoning is all organic, with no additives to enhance the taste.
---
Healthy Restaurant #2: Astor Café Bar & Grill
You can visit the Astor Café Bar & Grill for breakfast, brunch, lunch, dessert, or a simple cup of coffee. It features the South American cuisine, emphasizing a mixture of the Argentinian and Venezuelan kitchen. If you crave traditional meals such as Asado or Parrilla, you can come to this place. They also have a great white wine collection and a great taste in music. If you go here at nights, you might catch a live Tango night; if you do, don't be shy and join the podium, its good for your health! The Astor Café Bar & Grill also has an excellent customer service that will ensure that you get everything you need (to the tiniest of detail.) This is a small and hidden place, and probably the best restaurant on our list when it comes to serving coffee. The food is delicious and rich in flavors, especially the beef (we recommend that you try the Baked Beef Empanada. And please, don't enter this place if you aren't going to try their chimichurri!
---
Healthy Restaurant #1: Square Root Poké
The Square Root Poké is heaven for vegan, vegetarian and kosher food. The best dish you can have here is, you guessed it, Poke. It is a traditional Hawaiian salad, featuring a mixture of raw fish and on-demand ingredients. This place is very cool and modern, with an elegant and simple interior. If you ever enter this place, there is a chance that you might feel a bit overwhelmed. Why? Well, the amount of alterations and seasoning you can add to your Poke is ridiculous (but in a good way!) We suggest that you try the Square Root Poke. Oh and try the Miso Soup, it's really delicious. The great thing about this place is that you can select your base and protein to satisfy your daily income of healthy nutrients. Though the Square Root Poké is mostly for people that like or would want to try raw fish, you can also test their chicken, various salads and soups.