The Medi-Weightloss® Program is not just another diet - it's a medically supervised and clinically-proven approach that helps our patients achieve and maintain a healthy weight. Our professionals focus on preventive medicine. After medical tests and in-depth consultation with each patient, our medical staff creates an individualized and comprehensive plan for each patient.
Lose up to 20 pounds the first month!†:
- Medically Supervised
- Clinically Proven
- Eliminate Metabolic Syndrome1
- Individualized for You
- Weekly Visits and Ongoing Support
- Exclusive Supplements and Injections
- Over 15 Years of Experience
Did you know that being affected by overweight and obesity can impact your health? Losing weight can reduce your risk of developing many health conditions. Find out if you're at risk.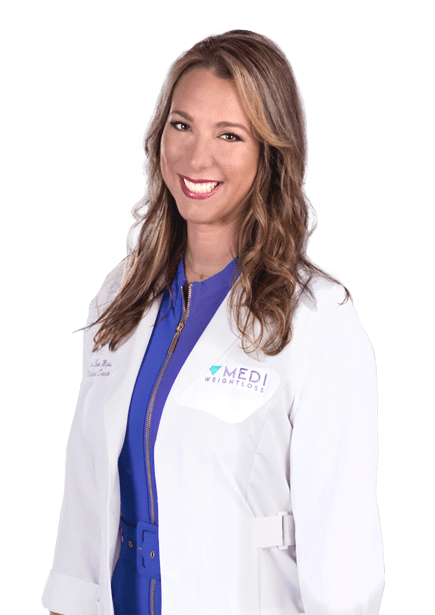 Coporate Medical Director: Gretchen San Miguel, MD
Does your location accept insurance? Find out here.
Ready to get your plan? Find your location and book an Initial Consultation to get started.
"I lost 135 pounds and 18 inches from my waist, and my health improved! My blood sugar dropped 8.4%, my triglycerides dropped by 73%, and my blood pressure dropped by 15%. But the best part for me? I learned how to eat healthy and have so much more energy. I even ran my first half marathon!"
Watch the Video
Acute
Begin your program with an Initial Consultation with our healthcare providers, followed by weekly appointments.
Complete medical exam, including blood panel and EKG
Weekly consultations with medical professionals
Overall health and body composition analysis
Nutrition plans and education
Access to the Signature Patient Website with recipes and activities
Signature Supplements and Products
Medication (if prescribed by a medical provider)
Short Term Maintenance
As you approach your goal weight, your counselor will meet with you weekly to teach you how to live a balanced and healthy lifestyle.
Weekly consultations with medical professionals
Continued overall health and body composition analysis
Learn to increase calories and maintain your goal weight
Continued access to the Signature Patient Website
Signature Supplements and Products
Wellness
Congratulations, you have lost the weight! Now we will give you the tools, support, and encouragement you need to help you keep it off.
Monthly consultations with medical professionals
Continued overall health and body composition analysis
Advanced testing and analysis of your metabolism
Strategies for a lifetime of health and wellness
Signature Supplements and Products