The Medi Living Smoking Cessation Program is medically supervised and administered by Providers trained in Preventive Medicine.
The program delivers patient-centered, evidence based, validated treatment strategies to patients who have a desire to make the lifestyle changes necessary to improve their overall health.

We recognize the difficulty in breaking the nicotine dependency and understand that these changes require a comprehensive approach to address both the physical and behavioral aspects of nicotine dependency.

Our highly trained medical professionals will obtain a medical history, conduct a physical examination, prescribe a Quit Plan, treatment plan, and determine your official Quit Date.

The program includes 4 weekly visits focusing on recognizing triggers, combating cravings, detoxing, sleep and weight monitoring, followed by two bi-monthly visits and monthly success visits as needed. Contact us now to learn how you can Quit For Good!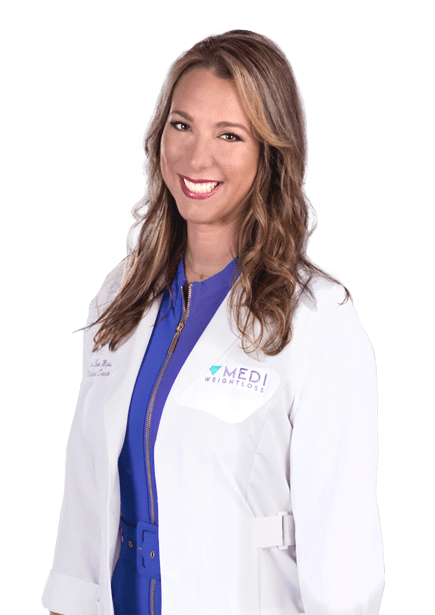 Coporate Medical Director: Gretchen San Miguel, MD
Ready to get your plan? Find your location and book an Initial Consultation to get started.
"I lost 135 pounds and 18 inches from my waist, and my health improved! My blood sugar dropped 8.4%, my triglycerides dropped by 73%, and my blood pressure dropped by 15%. But the best part for me? I learned how to eat healthy and have so much more energy. I even ran my first half marathon!"
Smoking is the leading cause of preventable death and disease.
Lifestyle Medicine: Defined in the Journal of the American Medical Association as the "evidence-based practice of assisting individuals and their families to adopt and sustain behaviors that can improve health and quality of life." Similar to preventive medicine, lifestyle medicine is recommended as a foundational approach to preventing and treating many chronic diseases. Learn more