5 Healthy Valentines Dessert Ideas
Are you dreading Valentine's Day because it might get in the way of your weight loss goals? You do not have to choose between ignoring the holiday and packing on the pounds. When you take the time to make healthy Valentines desserts yourself instead of getting sugary candy, you get tasty treats that are still good for you. These delicious Valentine's Day desserts manage to taste luxurious and look delightful without being loaded with calories.
The Medi-Weightloss List of 5 Healthy Valentine's Dessert Ideas:
---
Raspberry Chia Seed Pudding
This unconventional Valentine's Day dessert gets its signature texture from tasty chia seeds. With delicate layers of vibrant red and creamy white, it looks festive enough for very elaborate meals, yet it is actually incredibly easy to cook. In addition to being entirely vegan and gluten free, this healthy Valentine desserts option is also loaded with beneficial fiber and antioxidants.
Ingredients
1 cup of coconut milk
3 tbsp of chia seeds
1 tsp vanilla
1 tbsp agave syrup
2 cups of whole, fresh raspberries
1 tbsp sweetened coconut flakes
4 mint leaves
Preparation
1. Put the coconut milk and the chia seeds in a medium bowl and stir together until evenly combined without any lumps.
2. Gently whip in the vanilla and agave.
3. Divide your chia pudding evenly into two separate bowls. Cover them with plastic wrap and stick them in the refrigerator for at least four hours.
4. Before serving, puree all but eight raspberries together in a blender or food processor.
5. After the chia pudding has chilled, stir the pureed raspberry mixture into one of the bowls.
6. Layer the white vanilla and red raspberry pudding into four small dessert bowls. You can do a single layer of each color or do two layers of each color for a more striped appearance.
7. Sprinkle flakes of coconut on top and garnish with two raspberries and a mint leaf.
Nutritional Information
This recipe gets most of its sweetness from the coconut milk, so it only has about 240 calories per serving. The majority of these calories come from fat instead of carbs, so it is a good choice if you are on a low carbohydrate diet.
---
Chocolate Topped Coffee Loaf Cake
If you are not a fan of fruity desserts, it is still possible to get healthy Valentine desserts by trying out this coffee and chocolate flavored cake. The slight bitterness of the coffee gives a lot of depth to the cake without requiring you to add too much sugar to the cake. The recipe works whether you use normal wheat flour or a gluten free substitute, so it is ideal for those avoiding gluten.
Ingredients
2 shots of espresso coffee
1/4 cup of nonfat or almond milk
2 cups flour
3/4 tsp of baking soda
3/4 tsp of baking powder
1/4 tsp of salt
1 tbsp vanilla extract
1 large egg
1 tbsp of slightly softened yet not liquid coconut oil
1/2 cup nonfat unflavored Greek yogurt
1/2 cup maple or agave syrup
2 tsp agave syrup
3/8 cups nonfat or almond milk
3 tbs of cocoa powder
Preparation
1. Spray a 9 inch by 5 inch loaf pan with cooking spray and heat your oven to 350 degrees Fahrenheit.
2. Blend together the coffee and milk and set aside.
3. Mix together the flour, baking soda, baking powder, and salt in a medium sized bowl.
4. Stir together the vanilla, egg, and coconut oil in a large bowl
5. Add the flour mixture and the coffee mixture to the egg mixture bowl gradually, alternating as you add small portions of each.
6. Pour the batter into your loaf pan and bake for 35 to 45 minutes.
7. Let the cake cool in your pan for 10 minutes and then remove from pan to let it cool completely.
8. As the cake cools, mix together the remaining 2 teaspoons of agave, ? cups of milk, and cocoa powder.
9. Drizzle it on the top of the cake in a decorative pattern once the cake cools.
Nutritional Information
Slicing this cake into 12 even pieces gives you a hearty and satisfying slice of cake that is still reasonable if you are on a diet. It only has 150 calories and 9 grams of sugar per slice. Thanks to the addition of Greek yogurt, this cake has an impressive 4 grams of protein per serving.
---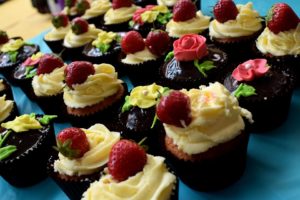 Strawberry Filled Double Chocolate Valentine's Cupcakes
Red strawberries and dark chocolate are a favorite Valentine's Day dessert combination, so they are ideal for people wanting to celebrate with classic foods. They key to making such a delicious recipe healthy lies in using applesauce instead of butter. This substitute gives a moist yet fluffy texture while being far lower in calories and fat.
Ingredients
2 tablespoons unsweetened cocoa powder
3/4 cups of almond meal
1/4 teaspoon of baking soda
1/8 teaspoon of salt
3 large eggs
3 tablespoons no-sugar-added applesauce
1 teaspoon vanilla extract
3 tablespoons honey
3 tablespoons dairy free chocolate chips
12 small strawberries with tops removed
1/4 cup coconut milk
1/3 cup dairy free chocolate chips
Preparation
1. Preheat your oven to 350 degrees Fahrenheit and line a muffin tin with papers.
2. In a large bowl, sift together the cocoa powder, almond meal, baking soda, and salt.
3. Stir in the eggs, applesauce, vanilla, and honey. Beat until lightly fluffy looking.
4. Fold in the 3 tablespoons of chocolate chips by hand.
5. Divide the mixture evenly among the cupcake liners.
6. Gently push a strawberry into the middle of each cupcake.
7. Bake until a toothpick inserted into the part with the cake comes out clean, about 15 to 20 minutes.
8. While the cupcakes cool, make your ganache by heating the coconut milk and ? cup of chocolate chips on low heat and stirring together until combined.
9. After cupcakes are cool, dip the top of each one into your ganache.
10. Place in refrigerator to keep cool until ready to serve.
Nutritional Information
If you use a classic 12 tin cupcake mold, each cupcake from this recipe will have 140 calories. Since almond meal is used instead of wheat flour, they also have a lower carb count. Each cupcake will have 9 grams of fat, 4 grams of protein, and 13 grams of carbs.
---
Greek Yogurt Cheesecake
This sweet and creamy Valentine's day dessert is incredibly versatile. You can arrange sliced fresh fruit on it, drizzle it with chocolate ganache, or even add a salted caramel topping. The secret to making a cheesecake that is good without being loaded with fat is Greek yogurt. It tastes almost identical to normal cheesecake with far less sugar and calories.
Ingredients
5 tbsp melted butter
1 tbsp sugar
10 graham cracker sheets crushed
1 3/4 cups 2 percent Greek yogurt
16 ounces low fat cream cheese, brought to room temperature
2/3 cups sugar
2 tsp lemon juice
1 tsp vanilla
3 large eggs
Preparation
1. Start by preheating your oven to 350 degrees Fahrenheit while you prepare everything else.
2. Mix together the butter, graham crackers, and 1 tablespoon of sugar. Press firmly into the bottom of a 9 inch round pan until flat and cohesive.
3. Bake the crust for 8 minutes and allow to cool.
4. Lower the temperature of your oven to 325 degrees Fahrenheit.
5. Beat the cream cheese until smooth and without any lumps, and then add in the yogurt, sugar, lemon juice, and vanilla.
6. Beat in the eggs one at a time.
7. Gently pour your cheesecake into the pan and bake it in the oven for 45 to 55 minutes. It will be done when it is still slightly jiggly.
8. Shut off the oven and crack the door. Let the cheesecake cool in the oven for an hour to finish setting.
9. Refrigerate the cheesecake for at least 8 hours.
Nutritional Information
The calorie count for this healthy dessert will vary depending on how small of a slice you get. An eighth of the cheesecake is 360 calories, but the average slice is a little smaller. You can get a comfortably sized slice for around 200 calories.
---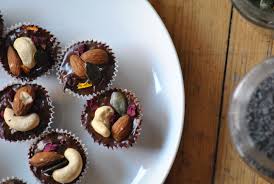 Chocolate Cashew Truffles
This dessert is for all the people out there who cannot get enough of Valentine's day candies. It tastes just like a sweet, chocolatey truffle, yet they do not contain as much sugar, saturated fat, preservatives and other unhealthy ingredients. Instead, these tasty and healthy Valentines desserts are made from cocoa powder, almonds, dates, and plenty of other delicious foods. You can coat them in anything fine and powdery, so it is easy to adjust the flavors to suit your preferences.
Ingredients
2 cups of Medjool dates
1/4 cup of cocoa powder
1/2 cup of raw cashews
2 tbsp of room temperature coconut oil
1/4 tsp sea salt
1 tsp of vanilla oil
Cocoa powder, chopped nuts, matcha powder, freeze dried raspberry powder, or shredded coconut for decorating.
Preparation
1. Remove the pits from the dates and discard them.
2. Place all the ingredients in your food processor and pulse it gently for two to three minutes. They will be done when all the ingredients blend together into a smooth lump of dough inside the processor.
3. Take small amounts of the mixture, about two teaspoons at a time, and roll them until they form smooth balls.
4. Once all of your truffles are made, gently toss them around in your desired topping until they have a smooth coating around each ball.
5. Store the truffles in the fridge until you are ready to eat them.
Nutritional Information
Without any toppings for the truffles, each one will have 60 calories and 7 grams of sugar. Keep in mind that depending on what decorative coating you choose, the calorie and sugar count may go up slightly.